---
High throughput
By optimizing each transfer section, an approximate 50% increase* is realized in the maximum throughput for continuous operation. This greatly contributes to an improvement in productivity. (Compared to the DFM2700)
*The actual throughput depends on the wafer mount process time and surface protection tape peeling time.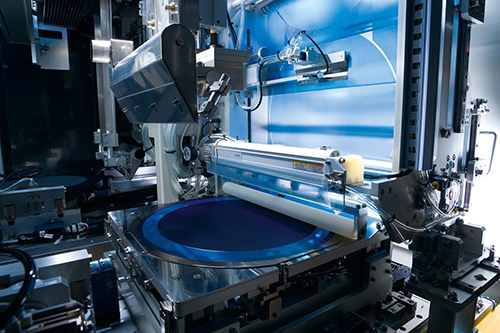 Robust options to support various needs
Robot/single load port unit when using the DFM2800 as a stand-alone unit
Internal precut mechanism for dicing tape
Surface protective tape peeling mechanism using adhesive tape
Wafer surface ID recognition mechanism (vision system) for barcode control after wafer mounting
Easy operation
While the equipment operation method is inherited from the DFM2700, the screen size is larger with better visibility to for a user-friendly and easy to understand operational environment. Furthermore, in an in-line system with a DGP8761, the DFM2800 is even easier to use because of unified management, which makes recipe selection and start/stop on the DFM2800 possible from the DGP8761.
Work Flow System
Workpiece reception from the grinder →
UV irradiation to the front side protection tape on the workpiece (when the UV tape is used) →
Workpiece transfer to the inspection table (when inspection is needed) →
Alignment using image processing →
Workpiece mounting with dicing tape or 2 in 1 DAF tape →
Surface protective tape peeling from the workpiece →
Tape frame storage (with mounted workpiece) in the cassette
---
Specifications
*Product appearance, features, specifications, and other details may change due to technical modifications.
*Please read the standard specification sheet thoroughly before use.